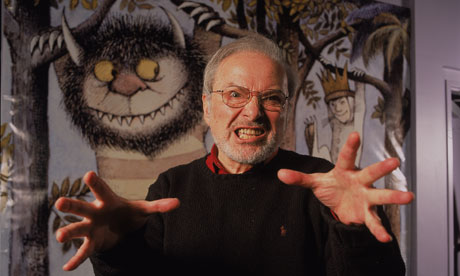 ' Photograph: James Keyser/Time & Life Pictures/Getty Image
Maurice Sendak brought a wild rumpus to my house. WHERE THE WILD THINGS ARE was one of my kids' favorite books because it was strange and different and wildly (ha) entertaining (plus I had to read it with sound effects, gnashing my terrible teeth and roaring my terrible roar). We often checked out Really Rosie from our small library and sang along to CHICKEN SOUP WITH RICE and PIERRE. We dreamed along with Mickey IN THE NIGHT KITCHEN.
Even though it's been years since we've read or watched any of the above, Maurice Sendak's characters and quotes became a part of our family culture. He was honest, irreverent, and thoroughly unique. He will be missed.
Here's some Sendak love from around the Internets:
Maurice Sendak, Author of Splendid Nightmares, Dies at 83 (
NY Times
)
Wild Thing, I Think I Loved You (
School Library Journa
l)
Maurice Sendak, the Author Who Scared a Generation of Kids (
Jewish Daily Forward
)
Maurice Sendak and the Soul of the Artist (
The New Yorker
) (Includes words of wisdom on writing for children)
The Creative Legacy of Maurice Sendak in His Own Words (
CoDesign
)
Remembering Maurice Sendak (
Wired
)
Memories of Maurice Sendak (
Salt Lake Tribune
)
Fresh Air Remembers Maurice Sendak
(NPR
)
Art Spiegelman's Visit with Maurice Sendak (t
he NewYorker
)
Awesome Sendak story (
facebook
)
10 Things You Might Not Know About Maurice Sendak (
Digg
)
This Week's Writing Links:
****Wield a More Subversive Sword (
Slate
) Writing Advice from Maurice Sendak
****4 Lessons on Writing (and Life) From Maurice Sendak (
PR Daily
)
What Builds Excitement? (
Genreality
)
Defying Logic (
Adventures in YA Publishing
) Inspirational post
What Can Stop Your Career From Ever Starting (
Jane Friedman
)
Dare to Suck (
Writer Unboxed
)
How to Find and Choose Ideas (
Writing Forward
)
****Hunger Games Beat Sheet (
Story Fix
) This is an excellent learning tool, even for pantsers
The importance of A Writer's Notebooks (
Spilling Ink
)
The Diagnostic and Statistical Manual of Main Characters (
Beyond the Margins
)
9 Ways to Outwit Writer's Block (
Rachelle Gardner
)
4 Ways to Hook Your Reader and Keep them Wanting More (
Jody Hedlund
)
****Tolkein's Tips for Creating Epic Heroes (
Writing is Hard Work
) Learn from the master
How to Keep Writing When the Sh*** Hits the Fan (
Nathan Bransford
)
Editor Interview: Andrew Harwell of Harper Collins (
Cynsations
)
Agent Spotlight: Susan Hawk (
Literary Rambles
)
Squirrel Wisdom (
Project Mayhem
)
The Crow Flies and Midnight (on symbolism) (
Write Brained
)
Why Writers Should Seriously Consider Pinterest (
Jody Hedlund
) (Psst... You can find me there
http://pinterest.com/lgerbs/
)
Now go read a great Sendak book, and then WRITE!