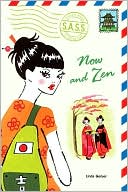 This month I learned
SASS: NOW AND ZEN
has been nominated as an
ALA Popular Paperback pick
. In honor of the nomination, today's lucky winner will receive a signed copy.
SASS: NOW AND ZEN
is about an exchange student who goes to Japan and finds her inner Zen. To be entered to win a copy of the book, tell me where you would want to go if you had a chance to study abroad.
Now here's the tricky part... I'll be on a ship on Monday and I'm not entirely sure I'll have Internet access to announce the winner, so this will stay open until I find an Internet cafe on shore... be sure to check back!