Hi, guys! Sorry about not posting the winner yesterday - Blogger has been off and on for me this past week and yesterday was one of the off days. Thanks for sharing your freaky experiences. By random drawing, the winner of
THE LOST SISTER
is:
Paradox
Please send an email with your mailing instructions to gerb @ lindagerber . com and we'll get that sent out to you. Everyone else, be sure to come back this Friday for a
mul
ti-book freebie
!
And now for what's up... Friday I had a great author visit with
The Learned Owl Book Shop
up in Hudson, OH. This event was special because it was arranged due to a request from Chelsea, known online to many of us as The Page Flipper. (Shameless self-promotion - you can read about the event and Chelsea's
review of DEATH BY DENIM here
.) It was great meeting Chelsea and her friend and hanging out with everyone at Cali Juice (they held the event at a smoothie shop. Loud, but too fun!)
Moral of this story, if you want me to come do a signing in your area, just let me know and I'll see what I can arrange!
Other fun stuff:
* Check out Diana Peterfreund's fabulous new killer unicorns website and the hilarious PSA video from Gordian Pharmaceuticals
here
. Her book
RAMPA
NT
hits the shelves August 25th.
* For all of you waiting for Lauren Baratz-Logsted's
CRAZY BEAUTIFUL
, Amazon is shipping early!!!
Check it out!
Order your copy now and you can read it before it even comes out!
*Margaret Peterson Haddix's
SENT
hits the shelves on Tuesday. I'll be going to her signing at Cover to Cover right here in Columbus, so be watching for that one as part of a Freebie Friday coming up!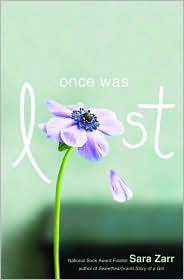 *
TFC
sister Sarah Zarr's upcoming book
ONCE WAS LOST
just got a starred review from Publisher's Weekly! You can read it
here
(but you have to scroll way down.) Congratulations, Sarah!
*In other
TFC
news, fans of Melissa Walker will be happy to hear that she has another book in the works - SMALL TOWN SINNERS with Bloomsbury, described as "the story of a small town girl who is excited to star in Hell
House, her church's annual haunted house of sin, until a childhood friend appears and makes her question her faith." Congratulations, Melissa!
*AND! Yet another
TFC
sister, Amanda Ashby, just sold a new MG series to Puffin about a girl who "accidentally gets turned into a djinn the day before starting sixth grade and has to learn to deal with her new powers without her mom finding out." Congratulations, Amanda!
* You still have time to join the birthday celebration over on Hope's Bookshelf and win a copy of
DEATH BY DENIM
(and a bunch of other great books!) Here's your chance to
tell us grown up types what you wish we would remember about being a teenager
(and enter to win!)
And that's about it for today. See you on Friday! Ciao!