I know, I know. It's Wednesday. But the next couple of weeks are going to be a little crazy so
the freebies might bounce around a little bit. This morning (as soon as I get done posting this, as a matter of fact,) I head up to girls' camp until Saturday. No Internet access. (Gaaaaaah!)
(Want a little insider information? I was actually up at the camp Monday but had to come home yesterday so I could send in my edits on
DEATH BY DENIM
. I am excited about this
episode of Aphra and Seth's adventure! Oh, and the kissing. I like the kissing...)
ANYWAY, next week will be relatively normal, except for the anticipation of waiting for the next
TWILIGHT
installment,
BREAKING DAWN
! How many of you are going to a bookstore event to pick up the book at midnight?
And exactly two weeks from today, I'll be in New York City, reading and signing with
Melissa Walker (VIOLET IN PRIVATE)
and
Lisa McMann (WAKE)
!!! We'll be at
Books of Wonder August 6th from 7 p.m.
Any of you in the New York area, come visit!!! If you tell me you read about it on the blog, I'll have something special for you...
Following the signing, I'll be at the
Backspace Writers' Conference
, where I will be moderating an agents panel.
And then... well, it just gets crazier from there with back to school and the upcoming promotion for the next DEATH BY book,
DEATH BY LATTE
... but this is enough for one blog post!
So... to get to the point... for this week's
FREEBIE FRIDAY
, I offer to you a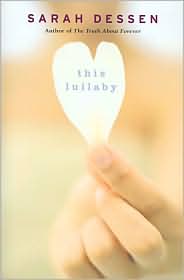 choice. I have three Sarah Dessen books up for grabs,
THIS LULLABY, KEEPING THE MOON or DREAMLAND
. To win one of these books, leave me a post telling me how the second half of your summer is shaping up and why I should choose you as this week's winner. Hint: sucking up is fun.
The contest will remain open until Monday, July 28.
Have a great week, everyone!!!