Welcome party gal
Carrie Jones
, author of GIRL, HERO, LOVE (AND OTHER USES FOR DUCT TAPE), TIPS ON HAVING A GAY (EX)BOYFRIEND and NEED - which has the coolest gold lipstick on the cover photo! Carrie and her denims
have a special kind of bond...
Jeans and I have a love-hate relationship. We've gone to couples therapy about it.
Therapist: Why don't you tell me what's going on?
Jeans (flopping back on the couch): Carrie ignores me.
Me: I don't ignore you. I just don't wear you.
Jeans: Same thing.
Me: Is not.
Therapist: One at a time. Carrie, do you understand where your jeans are coming from?
Me: Yes, but it's not that I'm ignoring Jeans –
Jeans (wailing): She NEVER wears me. She doesn't love me. I just sit folded on top of these cruddy, navy blue sweatpants that she had in fifth grade, waiting, waiting, waiting for something to happen, but no… NO!
Me: May I talk now?
Therapist: Yes.
Jeans: No. Time for talk is over. Now is the time for action. PUT ME ON!
Me (trying to get away from Jeans, which are attempting to slink on my legs despite the fact that I'm already wearing leggings): Wait! Wait! Don't!
Therapist: Jeans! Stop it! Let Carrie speak.
Me: I am not wearing you Jeans because I am afraid of ruining you. Look at you, baby. I've used you up. You're worn and barely even blue any more. You're ripped at the knees. Your cuffs are frayed. You're about to rip in the bottomy-bottom place too, and baby, I just don't want you to – to – you know…
Therapist (giving me a tissue): You don't want to lose Jeans, do you? You love Jea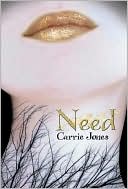 ns.
Me: I do! I do! I love you.
Jeans (sniffing): Well, you could patch me up. They have iron on patches.
Me: Those are tacky, baby. You deserve better than that.
Jeans: Yeah. I do.
To be entered to win a signed copy of NEED, leave a comment below telling us about your emotional connection to your jeans.