I have always loved a good book release (especially when the book promises to be such a fab summer read!), so I was thrilled to be invited to participate in Linda's
BIKINI
party. The best part? I TOTALLY don't even have to wear a bathing suit to participate. No self-consciousness, no three-way mirrors, no department store dressing room fluorescent lights.
This is my kind of bikini party!
For all that I joke about my new sedentary freelance lifestyle (or, what I lovingly refer to as "writer's butt"), I actually was once a very active person (for serious. Check out my website:
www.micolostow.com
, for photos of me running the NYC marathon. Madness). Believe it or not, bikini season didn't fill me with dread. Body image issues aside, the beach was kind of an ideal locale for me: sun (I know, I know, it's not PC or good for you, but I'm Latina--I thrive on sunshine and can't resist a good sunbathe), sand, surf...and time to read a book from cover to cover.
Today is the opposite of beach weather in NYC--I'm huddled in a coffee shop in sweats that are really only one step up from pajamas, wishing the waitresses would collectively decide to close the door against the dreary drizzle outside. I doubt I would even have gotten out of bed if it weren't for the mother lode of revisions hanging over my head.
So what's keeping me going? The promise of a beach vacation, of course.
My boyfriend, a fancy-schmancy big-time film producer, is off in Cannes right now at the film festival. Since he has work to do, I chose to stay behind, but next week I'll be meeting up with him for a tour of the beaches of the French riviera: Nice, St. Tropez, and Monaco.
Yes, I'll have to squeeze my writer's butt back into a bikini. That's the "bad news." The good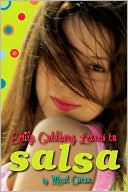 new is, I've got my reading list all planned out:
1. Audrey, Wait!, by Robin Benway
2. The Show: Pilot Episode, by Jordan Cooke
3. Fly On The Wall: How One Girl Saw Everything, by E. Lockhart
4. I Am The Messenger, by Markus Zusak
and, of course:
5.
DEATH BY BIKINI
, by Linda Gerber!
That should tide me over for at least an afternoon.
In the meantime, feel free to check out my novel,
EMILY GOLDBERG LEARNS TO SALSA
, for some more scorching hot Caribbean sunshine-y references!"
To be entered to win a copy, leave a reply to this post.